Hello! I just started using Tropy and am having a lag problem whenever I enter metadata.
I share the same problem as the OP in a previous post about JPEG comments. A long bizarre character string (a JPEG comment?) that I didn't enter myself will show up in the autocomplete selection for any of my metadata fields that I try to edit: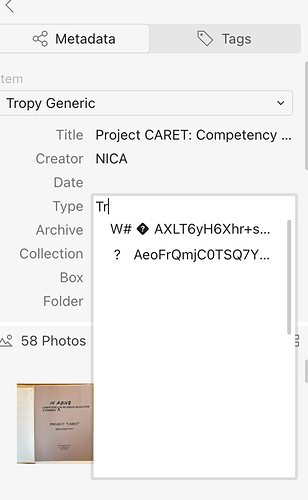 The appearance of this string slows down Tropy considerably (about a 10 second lag after typing a single key). Sometimes Tropy will even stall out and not respond. Is there a way I can manually delete this string in Tropy? Or do I need to scrub all my photos of existing metadata and then re-upload them again?
For reference, I am running Tropy version 1.12.0 on MacOS Monterey Version 12.6.
Thank you so much!