Hello,
this morning I am facing a regular crash while opening tropy, and all projects are impossible to open.
When I launch tropy a screen appears (pic 1); if I dismiss it and try to open a project (either the one I am working on, or an earlier version of it, of a whole different project) nothing happens. When I try to start a new project, it asks me for its name and then prevent me to actually create it (pic 2).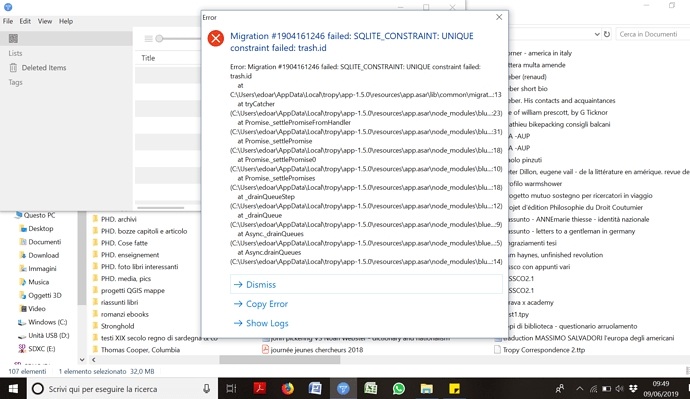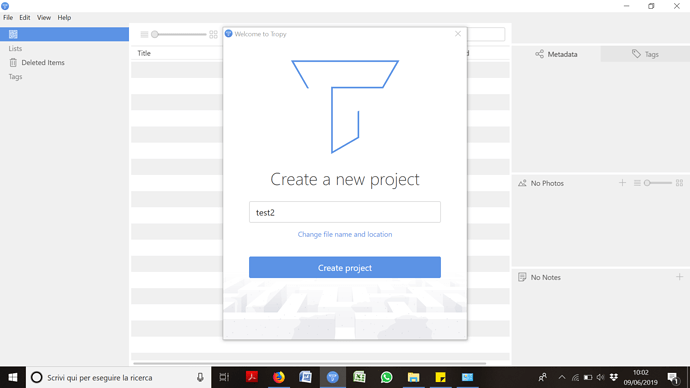 I tried to re-install tropy ex novo, but still the same.
Any suggestion is welcome.
I am running on tropy 1.5.0 on Win 10
and I did not change any setup since the last time I worked.
here a copy of the log file:
{"level":30,"time":1560066989116,"type":"browser","name":"main","opts":{"_":[],"auto-updates":true,"ignore-gpu-blacklist":false,"debug":false,"trace":false,"squirrel-firstrun":true,"environment":"production","env":"production","$0":"tropy.exe","data":"C:\Users\edoar\AppData\Roaming\Tropy","cache":"C:\Users\edoar\AppData\Roaming\Tropy\cache","logs":"C:\Users\edoar\AppData\Roaming\Tropy\logs"},"version":"1.5.0","msg":"main.init 1.5.0 Windows_NT 10.0.17134 (x64)","v":1}
{"level":30,"time":1560066989310,"type":"browser","name":"main","msg":"plugins scanned: 1","v":1}
{"level":30,"time":1560066989314,"type":"browser","name":"main","msg":"app state restored","v":1}
{"level":30,"time":1560066989317,"type":"browser","name":"main","file":"C:\Users\edoar\Documents\Huntington #2.tpy","msg":"open new project window","v":1}
{"level":30,"time":1560066989370,"type":"browser","name":"main","msg":"ready after 323ms [req:88ms]","v":1}
{"level":30,"time":1560066990147,"type":"renderer","name":"project","dpx":1.5,"opts":{"aqua":false,"dark":false,"environment":"production","documents":"C:\Users\edoar\Documents","maximizable":true,"minimizable":true,"pictures":"C:\Users\edoar\Pictures","scrollbars":true,"theme":"light","file":"C:\Users\edoar\Documents\Huntington #2.tpy","recent":["C:\Users\edoar\Documents\Huntington #2.tpy","C:\Users\edoar\Documents\test1.tpy"],"data":"C:\Users\edoar\AppData\Roaming\Tropy","debug":false,"dev":false,"cache":"C:\Users\edoar\AppData\Roaming\Tropy\cache","plugins":"C:\Users\edoar\AppData\Roaming\Tropy\plugins","frameless":false,"level":"info","locale":"en","log":"C:\Users\edoar\AppData\Roaming\Tropy\logs\tropy.log","uuid":"af2facf0-428d-11e9-acc5-9f2e762c60a1","update":{},"version":"1.5.0","webgl":true,"zoom":1},"msg":"project.init","v":1}
{"level":30,"time":1560066990210,"type":"renderer","name":"project","msg":"plugins scanned: 1","v":1}
{"level":30,"time":1560066990216,"type":"renderer","name":"project","msg":"plugins loaded: 1","v":1}
{"level":30,"time":1560066991702,"type":"renderer","name":"project","msg":"open db C:\Users\edoar\AppData\Roaming\Tropy\ontology.db","v":1}
{"level":30,"time":1560066991706,"type":"renderer","name":"project","msg":"restoring recent@tropy","v":1}
{"level":30,"time":1560066991721,"type":"renderer","name":"project","msg":"restoring settings@tropy","v":1}
{"level":30,"time":1560066991721,"type":"renderer","name":"project","msg":"restoring ui@tropy","v":1}
{"level":30,"time":1560066991785,"type":"renderer","name":"project","msg":"open db C:\Users\edoar\Documents\Huntington #2.tpy","v":1}
{"level":30,"time":1560066992069,"type":"renderer","name":"project","msg":"esper using webgl renderer","v":1}
{"level":40,"time":1560066992140,"type":"renderer","name":"project","query":"\n SELECT count(*) AS count FROM sqlite_master","ms":387,"msg":"SLOW: db query took 387ms","v":1}
{"level":30,"time":1560066992155,"type":"renderer","name":"project","msg":"migrating Huntington #2.tpy to #1904161246","v":1}
{"level":40,"time":1560066992224,"type":"renderer","name":"project","stack":"Error: Migration #1904161246 failed: SQLITE_CONSTRAINT: UNIQUE constraint failed: trash.id\n at C:\Users\edoar\AppData\Local\tropy\app-1.5.0\resources\app.asar\lib\common\migration.js:44:13\n at tryCatcher (C:\Users\edoar\AppData\Local\tropy\app-1.5.0\resources\app.asar\node_modules\bluebird\js\release\util.js:16:23)\n at Promise._settlePromiseFromHandler (C:\Users\edoar\AppData\Local\tropy\app-1.5.0\resources\app.asar\node_modules\bluebird\js\release\promise.js:517:31)\n at Promise._settlePromise (C:\Users\edoar\AppData\Local\tropy\app-1.5.0\resources\app.asar\node_modules\bluebird\js\release\promise.js:574:18)\n at Promise._settlePromise0 (C:\Users\edoar\AppData\Local\tropy\app-1.5.0\resources\app.asar\node_modules\bluebird\js\release\promise.js:619:10)\n at Promise._settlePromises (C:\Users\edoar\AppData\Local\tropy\app-1.5.0\resources\app.asar\node_modules\bluebird\js\release\promise.js:695:18)\n at _drainQueueStep (C:\Users\edoar\AppData\Local\tropy\app-1.5.0\resources\app.asar\node_modules\bluebird\js\release\async.js:138:12)\n at _drainQueue (C:\Users\edoar\AppData\Local\tropy\app-1.5.0\resources\app.asar\node_modules\bluebird\js\release\async.js:131:9)\n at Async._drainQueues (C:\Users\edoar\AppData\Local\tropy\app-1.5.0\resources\app.asar\node_modules\bluebird\js\release\async.js:147:5)\n at Async.drainQueues (C:\Users\edoar\AppData\Local\tropy\app-1.5.0\resources\app.asar\node_modules\bluebird\js\release\async.js:17:14)","msg":"unexpected error in *open","v":1}
{"level":30,"time":1560066992368,"type":"renderer","name":"project","msg":"project ready 2262ms [dom:46ms win:64ms req:1508ms]","v":1}
{"level":30,"time":1560067049317,"type":"browser","name":"main","msg":"checking for updates…","v":1}
{"level":30,"time":1560067050658,"type":"browser","name":"main","msg":"no updates available","v":1}
{"level":30,"time":1560067306181,"type":"renderer","name":"project","msg":"esper using webgl renderer","v":1}
{"level":30,"time":1560067313309,"type":"renderer","name":"wizard","dpx":1.5,"opts":{"aqua":false,"dark":false,"environment":"production","documents":"C:\Users\edoar\Documents","maximizable":false,"minimizable":false,"pictures":"C:\Users\edoar\Pictures","scrollbars":true,"theme":"light","data":"C:\Users\edoar\AppData\Roaming\Tropy","debug":false,"dev":false,"cache":"C:\Users\edoar\AppData\Roaming\Tropy\cache","plugins":"C:\Users\edoar\AppData\Roaming\Tropy\plugins","frameless":false,"level":"info","locale":"en","log":"C:\Users\edoar\AppData\Roaming\Tropy\logs\tropy.log","uuid":"af2facf0-428d-11e9-acc5-9f2e762c60a1","update":{},"version":"1.5.0","webgl":true,"zoom":1},"msg":"wizard.init","v":1}
{"level":30,"time":1560067313351,"type":"renderer","name":"wizard","msg":"plugins scanned: 1","v":1}
{"level":30,"time":1560067313358,"type":"renderer","name":"wizard","msg":"plugins loaded: 1","v":1}
{"level":30,"time":1560067313454,"type":"browser","name":"main","msg":"plugins scanned: 1","v":1}
{"level":30,"time":1560067313480,"type":"renderer","name":"project","msg":"plugins scanned: 1","v":1}
{"level":30,"time":1560067313482,"type":"renderer","name":"project","msg":"plugins loaded: 1","v":1}
{"level":30,"time":1560067313782,"type":"renderer","name":"wizard","msg":"wizard ready 523ms [dom:59ms win:40ms req:423ms]","v":1}
{"level":30,"time":1560067313869,"type":"renderer","name":"wizard","msg":"plugins scanned: 1","v":1}
{"level":30,"time":1560067313870,"type":"renderer","name":"wizard","msg":"plugins loaded: 1","v":1}
{"level":30,"time":1560067317788,"type":"renderer","name":"wizard","msg":"creating new project test2 in C:\Users\edoar\Documents\test2.tpy","v":1}
{"level":30,"time":1560067317791,"type":"renderer","name":"wizard","msg":"open db C:\Users\edoar\Documents\test2.tpy","v":1}
{"level":30,"time":1560067317799,"type":"renderer","name":"wizard","msg":"creating project "test2" 276166dc-6694-4dbe-84fe-0b9fea98d9db","v":1}
{"level":30,"time":1560067317838,"type":"browser","name":"main","file":"C:\Users\edoar\Documents\test2.tpy","msg":"open project in current window","v":1}
{"level":30,"time":1560067320315,"type":"renderer","name":"wizard","msg":"creating new project test2 in C:\Users\edoar\Documents\test2.tpy","v":1}
{"level":30,"time":1560067320317,"type":"renderer","name":"wizard","msg":"open db C:\Users\edoar\Documents\test2.tpy","v":1}
{"level":30,"time":1560067320322,"type":"renderer","name":"wizard","msg":"creating project "test2" 8b3163c3-e656-48f6-87ed-ece19bc7413c","v":1}
{"level":30,"time":1560067320384,"type":"browser","name":"main","file":"C:\Users\edoar\Documents\test2.tpy","msg":"open project in current window","v":1}
{"level":30,"time":1560067320913,"type":"renderer","name":"wizard","msg":"creating new project test2 in C:\Users\edoar\Documents\test2.tpy","v":1}
{"level":30,"time":1560067320914,"type":"renderer","name":"wizard","msg":"open db C:\Users\edoar\Documents\test2.tpy","v":1}
{"level":30,"time":1560067320917,"type":"renderer","name":"wizard","msg":"creating project "test2" ea9a7a8d-13ad-45d8-b93f-7b1fd68d2533","v":1}
{"level":30,"time":1560067320961,"type":"browser","name":"main","file":"C:\Users\edoar\Documents\test2.tpy","msg":"open project in current window","v":1}
{"level":30,"time":1560067321451,"type":"renderer","name":"wizard","msg":"creating new project test2 in C:\Users\edoar\Documents\test2.tpy","v":1}
{"level":30,"time":1560067321453,"type":"renderer","name":"wizard","msg":"open db C:\Users\edoar\Documents\test2.tpy","v":1}
{"level":30,"time":1560067321456,"type":"renderer","name":"wizard","msg":"creating project "test2" becc7c2e-efd0-4ed2-8993-0588e0b5285b","v":1}
{"level":30,"time":1560067321493,"type":"browser","name":"main","file":"C:\Users\edoar\Documents\test2.tpy","msg":"open project in current window","v":1}
{"level":30,"time":1560067321941,"type":"renderer","name":"wizard","msg":"creating new project test2 in C:\Users\edoar\Documents\test2.tpy","v":1}
{"level":30,"time":1560067321949,"type":"renderer","name":"wizard","msg":"open db C:\Users\edoar\Documents\test2.tpy","v":1}
{"level":30,"time":1560067321952,"type":"renderer","name":"wizard","msg":"creating project "test2" 20ae916e-7d2d-4946-a9f4-ed8496eda448","v":1}
{"level":30,"time":1560067321990,"type":"browser","name":"main","file":"C:\Users\edoar\Documents\test2.tpy","msg":"open project in current window","v":1}
{"level":30,"time":1560067365946,"type":"renderer","name":"project","msg":"open db C:\Users\edoar\Documents\Huntington #2.tpy","v":1}
{"level":30,"time":1560067365951,"type":"renderer","name":"project","msg":"migrating Huntington #2.tpy to #1904161246","v":1}
{"level":30,"time":1560067366009,"type":"renderer","name":"project","msg":"db query took 55ms","query":"-- Prune images\r\n– ------------------------------------------------------------\r\nINSERT INTO trash (id, reason)\r\n SELECT id, 'auto' AS reason\r\n FROM images\r\n WHERE id NOT IN (\r\n SELECT id FROM photos UNION SELECT id FROM selections\r\n );","ms":55,"v":1}
{"level":40,"time":1560067366011,"type":"renderer","name":"project","stack":"Error: Migration #1904161246 failed: SQLITE_CONSTRAINT: UNIQUE constraint failed: trash.id\n at C:\Users\edoar\AppData\Local\tropy\app-1.5.0\resources\app.asar\lib\common\migration.js:44:13\n at tryCatcher (C:\Users\edoar\AppData\Local\tropy\app-1.5.0\resources\app.asar\node_modules\bluebird\js\release\util.js:16:23)\n at Promise._settlePromiseFromHandler (C:\Users\edoar\AppData\Local\tropy\app-1.5.0\resources\app.asar\node_modules\bluebird\js\release\promise.js:517:31)\n at Promise._settlePromise (C:\Users\edoar\AppData\Local\tropy\app-1.5.0\resources\app.asar\node_modules\bluebird\js\release\promise.js:574:18)\n at Promise._settlePromise0 (C:\Users\edoar\AppData\Local\tropy\app-1.5.0\resources\app.asar\node_modules\bluebird\js\release\promise.js:619:10)\n at Promise._settlePromises (C:\Users\edoar\AppData\Local\tropy\app-1.5.0\resources\app.asar\node_modules\bluebird\js\release\promise.js:695:18)\n at _drainQueueStep (C:\Users\edoar\AppData\Local\tropy\app-1.5.0\resources\app.asar\node_modules\bluebird\js\release\async.js:138:12)\n at _drainQueue (C:\Users\edoar\AppData\Local\tropy\app-1.5.0\resources\app.asar\node_modules\bluebird\js\release\async.js:131:9)\n at Async._drainQueues (C:\Users\edoar\AppData\Local\tropy\app-1.5.0\resources\app.asar\node_modules\bluebird\js\release\async.js:147:5)\n at Async.drainQueues (C:\Users\edoar\AppData\Local\tropy\app-1.5.0\resources\app.asar\node_modules\bluebird\js\release\async.js:17:14)","msg":"unexpected error in *open","v":1}