When I type names that are in ISO format it displays them in a nicer fashion.
2023-08-08 becomes Aug 8, 2023.
I would like there to be an option to display it as YYYY-MM-DD.
I find this better to read, especially when I type a c. (circa) behind a date to say that it is an estimation.
Now it looks like this: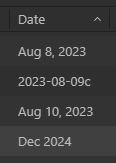 Thank you in advance!