Is Tropy an App? Can it be imported for use on a device like eReader/ink tablet Boox brand device?
No, Tropy is currently supported on Linux, macOS, and Windows on several CPU architectures. It can be installed on any device running these platforms. So typically, these are desktop or laptop computers.
I did not receive a notification that this query had been answered, just FYI. I thus went to Boox support for the answer and they basically responded the same, saying that they were unable to find a download link for the app (Tropy IS an app, though, right?) and so concluded that it's not compatible—see screenshot of their reply.
Is there any way that the two COULD become compatible in future planning?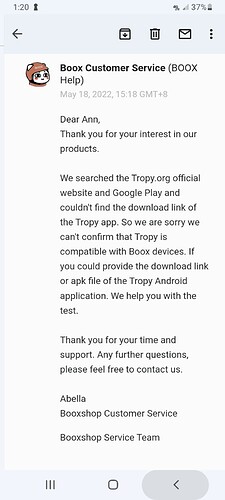 Yes, Tropy is an app, but it's not an Android app and therefore not compatible with Boox devices, sorry!
I wouldn't rule out a future Tropy version for Android, but it's not something that is currently planned.
Boox eReader/note taker is compatible with 16 different file types and apps, like evernote, epub, etc., and maybe there are some among them that aren't android OS.
Their reply to me was that they couldn't find a way to download Tropy, so they assume it's not compatible–but that sounds unlikely to me–every person who uses Tropy has to download it initially, no? And Boox devices are connected to the internet, Google drive, etc. Why do you think they could not have found a way to d/l Tropy?
Louise Falcini replied on another topic that they have an Android archiving app that could be integrated with only a little adaptation to Tropy, to which you responded enthusiastically. Is this in the works, or is your reply to me indication that no Android application is envisaged presently?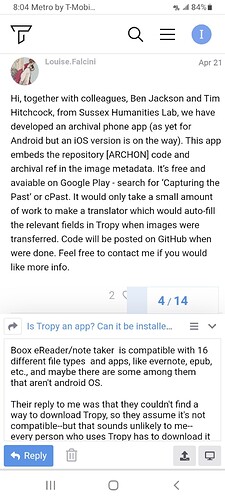 The Boox support where looking for link to the Android version of Tropy (which does not exist) because that's what would be required to run on this device.
There are currently no plans for an Android version of Tropy. The Capturing the Past app you mentioned is an Android app and you can look into using that one on the tablet (if it comes with a camera). You can use the CVS import plugin to import the files saved by cPast into Tropy on a compatible computer.