First of all I am really excited to use this software which could be the first one !
I work on photographic collections and it could be a wonderfull tool to annote and study pictures.
I look forward to a version where you can custom your own templates and export the base to csv.
Right now, I've tried to import about one hundred picts and started to tag them. Yesterday it was just perfect : I created some lists, to organize picts as they are in the archives. But today, when I opened the file, many lists appear strange : I cannot click on them no more, I'm just able to change with arrow keys, and when I'm on the list, I don't see its content but the content of another list !! [capture] I note on the other hand that the tags work perfectly when I select the entire base.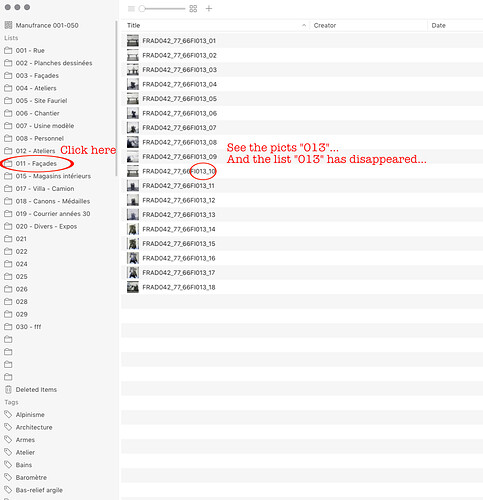 I haven't tried to play with the annotations by now, I think I will create a new base and try. I will keep you posted.