Hi there, so this isn't a big issue and its easy to work around, but it is something that I want to make sure does not become a bigger issue. So this has happened a few times now, where I open Tropy through its desktop app and this screen pops up.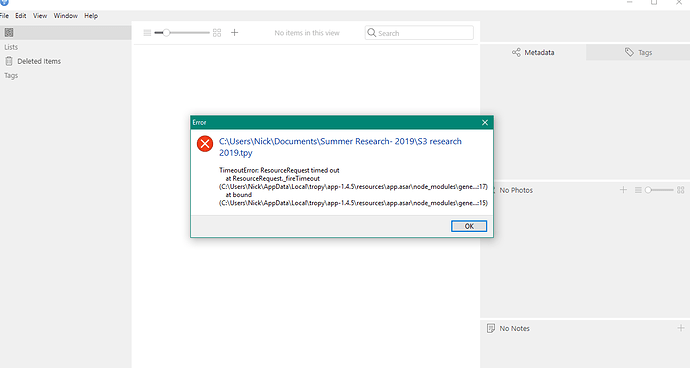 All I have to do to get around this is close Tropy and this pop-up window, then double click on my tpy file (which doesn't actually open Tropy, likely because Im on Windows), then re-open Tropy through its desktop app and then Tropy opens up my project like it should have the first time.
I have already had some issues with Tropy due to my own fault where I lost a fair amount of work. Since then I have done a lot reading on these forums and I am rather confident that I wont lose any more work in the future. But I don't see anything about this issue on the forums, and to say the least, this issue makes me nervous that something might go wrong and I'll lose more of my work this time.
Has anybody else had this issue? Is there anything serous to worry about here?